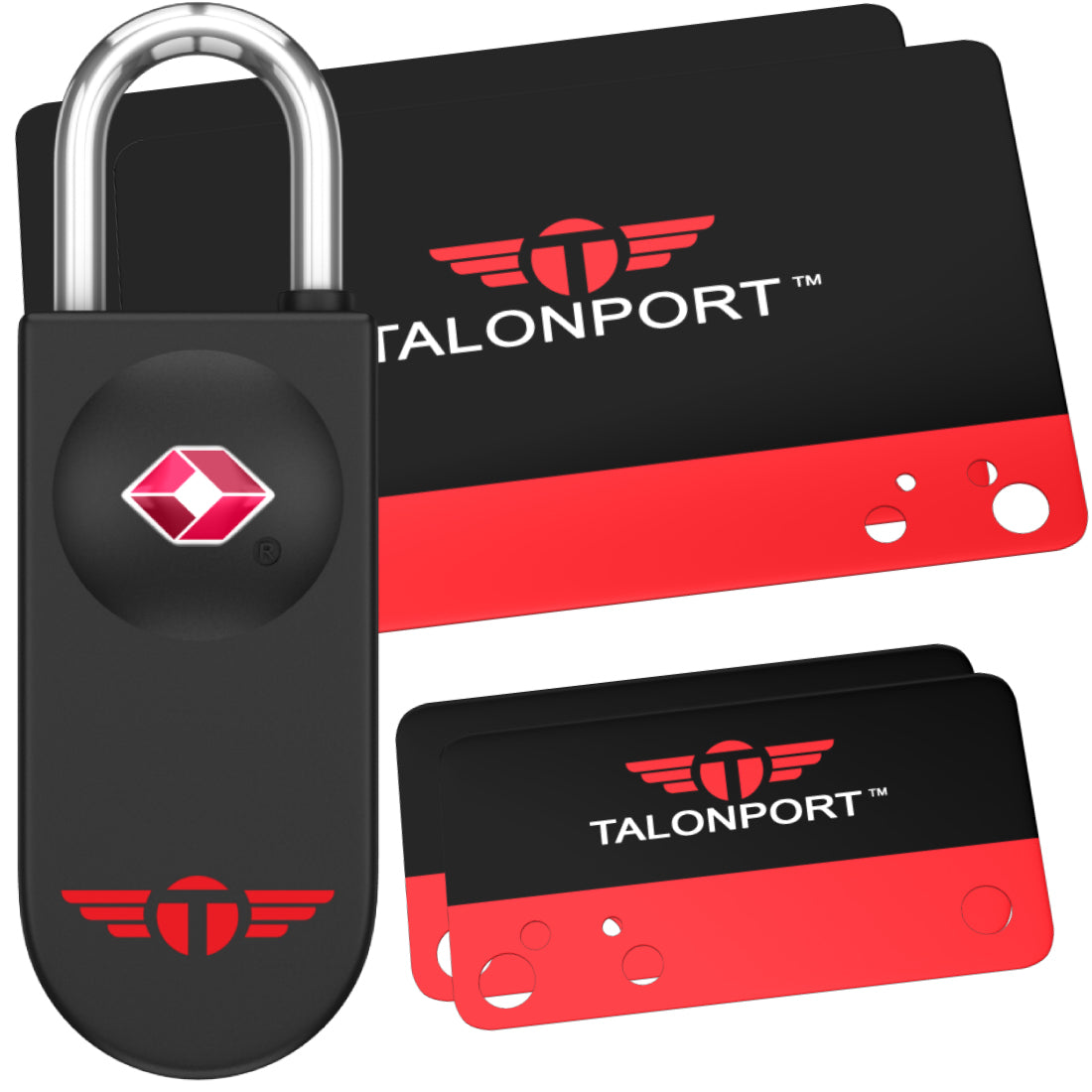 Keyless TSA Approved Luggage Lock with Lifetime Never Cut Guarantee
Safe and Secure Checkout
All Metal, Durable, and Keyless Luggage Lock that comes with 4 card keys to ensure you will always be able to unlock your luggage. This slim design is versatile and perfect for all types of baggage. Not only is it TSA approved for travel, but it can also be used for locks at the gym, backpack, or even for a suitcase.
Why you'll love yours

Click to read features and benefits

 Lifetime never cut guarantee & replacement card keys. If your TSA-approved luggage locks ever get cut or you lose your 4 card keys, we'll send you a FREE replacement. Feel first class every time you travel with Talonport
Rock solid durable all metal construction. These luggage locks are indestructible and are guaranteed to last a lifetime. The slim small lock design helps keep it out of the way and easily fit on any of your travel baggage.
No combination to forget. Finally, a TSA lock where you don't have to carry bulky keys or remember a combination (how many luggage locks have you had to throw out?)
Super fast foolproof design. Simply place your card into the lock and it opens instantly. Includes two convenient credit card keys and two keys that fit on any keyring. Plus, if you ever lose your cards, we'll send FREE replacements, for life
More than just TSA locks for luggage – Use Talonport travel locks as a briefcase lock, suitcase lock, locker locks for gym, purse, backpack, a tent, laptop bag, hostel locker lock, and more
Shipping and Returns

Free shipping over $35. Click for details

Free 3-5 day USPS shipping in the US for orders over $35. Otherwise, $5 flat. Shipping is $10 to Canada. International shipping is available at $35. Faster upgrades are available at checkout. You can return your purchase in 30 days for any reason. We're renowned for our world class customer service.